Mission and History of the Elkhorn and Area Foundation
Mission
The Foundation is established to ensure in perpetuity:
The preservation and advancement of the quality of life in the community;
The assistance of the community in responding to today's challenges and meeting emerging needs of now and the future;
The protection and development of assets, including human, physical and heritage, including but not restricting the generality of the foregoing: cultural, recreational, education, health care, heritage, environmental and other charitable purposes.
History
Elkhorn and Area Foundation was established in 1998 by a forward-thinking group of community members, to invest in the future of Elkhorn and the surrounding area.
The purpose was to assist the community in responding to today's challenges and meeting emerging needs of now and the future. Four community members each donated money (totaling $12,000) to get the foundation started and to receive matching grants.
The original nine board members were Bob Nesbitt, Ron Canart, Gail Martin, Harry Schultz, Jim Johnson, Don Bartley, Betty Rookes, Barb Hodson and Jill Canart.
In 1999, the first grant of $185 was awarded to Elkhorn District Community Center.  Over the years, the yearly grants , scholarships and designated funds have continued to grow – thankyou to all the generosity of all our donors that continually support and donate to the Foundation.  The yearly granting amount continues to increase every year, which in turn supports all the amazing projects that our volunteers dream of to benefit and enhance the communities that we all live in.  Scholarships are awarded annually to students of Elkhorn School to assist with continuing their education.
The Foundation holds an annual Memory Tree fundraiser where a bulb can be purchased in memory of a loved one. Their name is displayed at the Memory Tree on the honour board and a special ceremony is held to light the tree for the holiday season to remember all our loved ones.
Elkhorn and Area Foundation is part of the Community Foundations of Canada and has been under the umbrella of the Winnipeg Foundation since 2003 to take advantage of their expertise, knowledge and financial advisement.  This has provided a great support system for the volunteer board, as well as a great financial investment.
On December 17, 2016, the Elkhorn and Area Foundation grew significantly with a very generous One Million Dollar Donation from the estate of Gilbert and Milburn Soder. Gilbert and Milburn were long-term residents of Elkhorn and their generosity will benefit Elkhorn and area for many years to come, and will assist with making the community a better place to live, work and play.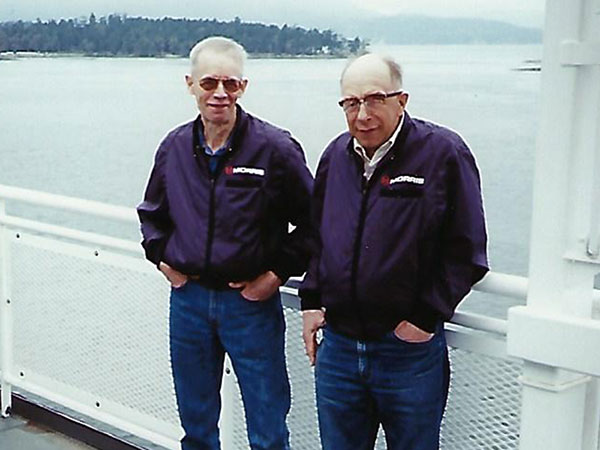 The Soder siblings –
Back (L-R): Grace Pearn, Robert Soder, Gilbert Soder, Milburn Soder, Alice Stitt; Front (L-R): Fern Sutherland and Murray Soder
Milburn & Gilbert Soder – One Million Dollar Bequest to Elkhorn & Area Foundation
December 17, 2016, turned out to be a special day for the Elkhorn and Area Foundation. The Soder family asked the Foundation members to meet for a special presentation in which Murray Soder, and several of his family members, presented $1,000,000 to the Foundation on behalf of his brothers, Milburn and Gilbert Soder.
Murray stated that, "This bequest should be considered a legacy to the hardships and perseverance of our parents in sticking out the hard times as well as a dedication to Milburn and Gilbert's hard work and total dedication to making the farm a successful enterprise."
Milburn and Gilbert's father and his brother came to Elkhorn in 1907 to work on a farm. Two years later they purchased a quarter section of land which became home to their family.
Their mother's family moved to the area in 1913 and in 1920 their parents were married. They had seven children and all but the youngest had their home section listed on their birth certificates. Growing up, Elkhorn was their family's sole source supplier for the modest things they could afford and all the children attended Elkhorn School. Milburn and Gilbert left school early to become farmers. By the early 1950s, Milburn and Gilbert, along with their parents, acquired neighbouring properties and other lands as people retired to expand the operation.
Over the period of 110 years, the family farm grew to a very successful operation.
Milburn passed away in 1996 and Gilbert retired and moved to Virden and later on to Brandon, where he passed away in 2015.  Upon Gilbert's death, he bequeathed the sum of $1,000,000 on behalf of his brother Milburn and himself. The philanthropic impact this donation will have for Elkhorn and the surrounding area is incredible and will definitely make Elkhorn a greater place to work, live and play.