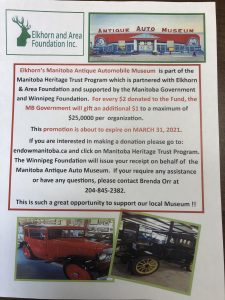 Elkhorn's Manitoba Antique Automobile Museum has applied and been accepted into the new Manitoba Heritage Trust Program which is partnered with the Elkhorn and Area Foundation and supported by the Manitoba Government and Winnipeg Foundation.
The program will run from April 1, 2018 until March 31, 2021.  The Government of Manitoba will "stretch" any donations or gifts for this new Trust Fund – For every $2 given to the fund, the MB Government will gift an additional $1 to a maximum of $25,000 per organization.
This is a great program for our local Museum to promote and preserve our heritage and provide long-term sustainable revenue.  Any or all donations must go through the Winnipeg Foundation to be eligible for the "Stretch" dollars.  If you are interested in making a donation, please go to endowmanitoba.ca and click on the Manitoba Heritage Trust Program (located on the top right) and click on Heritage Funds and locate "Manitoba Antique Auto Museum Fund".  Once you click on this link, follow the prompts to make your gift and the Winnipeg Foundation will issue your receipt on their behalf as well.  If you require any assistance, please do not hesitate to contact Brenda Orr at 204-845-2382.
For more information regarding the program, please go to Manitoba Heritage Trust Program on the Endow Manitoba website.